In this article, we will explore the Top 10 Best Cricket Umpires of all time in cricket history. Officiating in any cricket format poses a significant challenge for umpires, as a single pivotal decision can alter the entire course of a game. In the contemporary cricket landscape, Anfield umpires have the option to use video referrals in case of uncertainties. However, during the 1960s, 70s, 80s, and 90s, umpiring was a formidable task as Anfield umpires' rulings were deemed final. In today's era, if an umpire makes an error, they inevitably face criticism from fans on social media, intensifying the pressure on them.
In this article, we will explore the most distinguished umpires in cricket history. These individuals possess a deep understanding of the sport and are adept at handling challenging situations. Their ability to make prompt and accurate decisions sets them apart as the finest in the game. While each umpire has a unique approach to various scenarios, they consistently exhibit maturity and wisdom in their decisions. Let's delve into the top 10 umpires of all time.
Top 10 Best Cricket Umpires of all time in cricket history
David Shepherd (England)
Dickie Bird (England)
Steve Bucknor (West Indies)
Billy Bowden (New Zealand)
Rudy Koertzen (South Africa)
Aleem Dar (Pakistan)
Srinivas Venkataraghavan (India)
Simon Taufel (Australia)
Kumar Dharmasena (Sri Lanka)
Daryl Harper (Australia)
1). David Shepherd (England)
David Shepherd commanded respect in the cricketing world with his friendly demeanor and astute umpiring. His British precision and efficiency in making swift on-field decisions were noteworthy. While his distinctive gestures became a point of fascination, Shepherd unquestionably ranks among the finest umpires in international cricket history. He officiated in three World Cups (1996, 1999, and 2003) and tragically succumbed to lung cancer in 2008.
2). Dickie Bird (England)
Dickie Bird earned immense respect both within and beyond the cricketing realm. A true gentleman, his prowess as an umpire was truly remarkable. Bird had previously represented Yorkshire and Leicestershire as a county cricket player. He stood out as one of the premier umpires in the 1970s and 80s, officiating in three World Cups (1975, 1979, and 1983). Bird was known for his no-nonsense approach to player behavior, having umpired 66 Tests and 69 ODIs. His era predated the use of video referrals.
3). Steve Bucknor (West Indies)
Steve Bucknor was known for taking his time to announce decisions on the field. He officiated in five World Cups (1992, 1996, 1999, 2003, and 2007) but faced criticism in recent years due to some controversial calls. Notably, he also officiated a football match for CONCACAF and a World Cup qualifier match between the Netherlands and El Salvador.
4). Billy Bowden (New Zealand)
Billy Bowden, a New Zealander, brought entertainment to the world of cricket with his charismatic persona. He was immensely popular among fans and added a dose of humor with his quirky gestures. Bowden's ability to make rapid decisions with efficiency was remarkable. He umpired 84 Tests, 200 ODIs, and 24 T20Is, gaining recognition even from prominent advertising firms. He was inducted into the ICC Elite Panel of Umpires in 2003 and last officiated in the Australia vs. New Zealand ODI in 2016.
5). Rudy Koertzen (South Africa)
Rudy Koertzen boasted an impressive 30-year tenure as an umpire. He made his umpiring debut in the 1992 India vs. South Africa game and joined the ICC Elite Panel of Umpires in 2002. Over the course of his career, he officiated in more than 100 Test matches and over 200 ODI matches. Koertzen served as the third umpire in the 2003 and 2007 World Cups, concluding his umpiring career in 2010 during a Test match between Australia and Pakistan.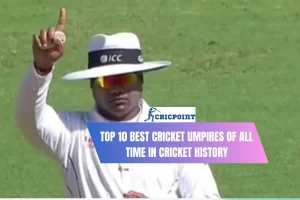 6). Aleem Dar (Pakistan)
Aleem Dar possesses over two decades of umpiring experience in international cricket. This 55-year-old umpire clinched three David Shepherd trophies from 2009 to 2011, cementing his status as one of the finest umpires of the past decade. Notably, he achieved a 100% success rate during the 2011 World Cup when the Decision Review System (DRS) was not available for challenging decisions. To date, Dar has umpired in 299 ODIs, 172 Tests, and 88 T20Is, becoming the first Asian umpire to achieve such a milestone in ODIs and Tests. He has also officiated in five World Cups.
7). Srinivas Venkataraghavan (India)
Srinivas Venkataraghavan is hailed as one of the premier umpires in Indian and international cricket. He began his umpiring career in the 1993 India vs. England match in Jaipur. After being appointed to the International Cricket Umpire Panel in 1994, Venkataraghavan consistently earned selection as an official for Test matches played outside India. Renowned for his conduct and discipline, he officiated in high-stakes matches, including the 1996 and 1999 World Cup semi-finals and the 1999 World Cup final at Lord's. Venkataraghavan presided over six Ashes series, 73 Tests, and 52 ODIs.
8). Simon Taufel (Australia)
Simon Taufel made history by becoming the youngest umpire to officiate in a Test match at the age of 27 during the Australia vs. West Indies Test match in December 2000. From 2004 to 2008, he secured five consecutive Best Umpire Awards. Taufel umpired 74 Tests, 174 ODIs, and 34 T20Is, and he achieved another milestone by becoming the youngest umpire to reach 100 ODIs at the age of 36. After retiring from active umpiring in 2012 at the age of 41, he assumed the role of ICC's manager of umpire performance and training.
9). Kumar Dharmasena (Sri Lanka)
Kumar Dharmasena, a former Sri Lankan all-rounder, transitioned from being a TV umpire to an on-field umpire. With extensive experience over the last decade, Dharmasena has officiated in 101 Tests, 179 ODIs, and 61 T20Is. He also lent his umpiring expertise to the IPL. Dharmasena's remarkable composure in making tough decisions distinguishes him as one of the most seasoned umpires in world cricket today.
10). Daryl Harper (Australia)
Daryl Harper commenced his umpiring journey in 1988 during an ODI between South Africa and New Zealand. Over a career spanning 17 years, this 71-year-old umpire officiated in 94 Tests and 174 ODI matches. Harper was known for his humor and generous demeanor on the field. He was Australia's most experienced umpire in international cricket and was selected to the ICC Elite Panel of Umpires in 2002. However, he retired due to errors during the India-West Indies Test series.
Also Read: Top 5 Fastest 150 in ODI Cricket History
These umpires have left an indelible mark on the history of cricket, demonstrating their unwavering dedication and exceptional decision-making abilities on the field. Their contributions have enriched the sport and earned them enduring respect among fans and players alike
Who is the best umpire in cricket history?
The assertion that "David Shepherd stands as the most outstanding cricket umpire in history" represents a subjective viewpoint, as opinions on the finest umpire can diverge among cricket aficionados. Nevertheless, there are robust reasons to acknowledge David Shepherd as one of the premier cricket umpires to have ever graced the game.
Hailing from England, David Shepherd cultivated an impeccable reputation for his umpiring acumen during his illustrious career. Although definitively determining the absolute best umpire is a complex task, Shepherd's contributions to cricket unmistakably position him among the upper echelons of umpires.
One of the most notable facets of Shepherd's umpiring tenure was his unwavering dedication to fairness and integrity on the cricketing stage. His decisions consistently reflected precision and impartiality, earning the trust of both players and fans. Shepherd's capacity to maintain his composure in high-pressure situations also garnered admiration. He officiated numerous prestigious matches, including the World Cup finals, where his impeccable judgment played a pivotal role in upholding fair play.
People Also Like: Top 10 Richest Cricket Boards In The World
Furthermore, David Shepherd's warm and charismatic persona endeared him to cricket enthusiasts worldwide. His signature practice of hopping following each boundary became an iconic element of his umpiring style, injecting a touch of charm into the game. Shepherd's genial demeanor and rapport with players further underscored his professionalism and accessibility, firmly establishing him as a beloved figure within the cricketing community.
While unquestionably other exceptional umpires have graced cricket's history, David Shepherd's legacy embodies the qualities that define an exceptional umpire: precision, impartiality, grace under pressure, and an authentic passion for the sport. While perspectives on who deserves the title of the "finest" umpire may vary, there is no denying that David Shepherd's profound impact on cricket and the cherished memories he generated form a compelling rationale for his inclusion in discussions about the most distinguished cricket umpires.
What is the salary of IPL umpires?
umpires on the Elite Panel receive a base pay of ₹1,98,000, whereas Development Umpires are compensated with a basic salary of ₹59,000. Elite Panel umpires have the opportunity to accrue earnings of up to ₹40 lakhs in a season should they officiate all IPL matches. Additionally, they are provided with a daily allowance of ₹12,500 for each match they oversee.
Who was the first umpire in cricket history?
The historical identity of the inaugural cricket umpire remains undocumented due to the gradual development of the role alongside the sport itself. Cricket's origins trace back to the 16th century, undergoing significant transformations during the 17th and 18th centuries.
In the early stages of cricket, matches were often informal, taking place within local communities and lacking standardized rules. The concept of umpiring, as it is currently understood, was relatively unstructured, with decisions typically made by the participating players.
The initial set of cricket laws, known as the "Laws of Cricket," was drafted in 1744, encompassing regulations pertaining to umpires. This suggests that by this juncture, the idea of designated umpires was gaining prominence.
Nevertheless, the role of umpires, as recognized today with two officials overseeing matches, started taking form during the 19th century as cricket became more organized and systematized. The practice of appointing impartial umpires for international contests became commonplace in the 20th century.
Hence, while the specific identity of the very first cricket umpire remains uncertain due to the gradual evolution of the sport, umpires have emerged as an integral component of cricket's rules and procedures over the course of its long history.
Which Indian cricket players became umpires?
Kapil Dev
Anil Kumble
Javagal Srinath
Venkataraghavan
Who was the umpire known as God?
Famous English cricket umpire Dickie Bird is often called "The Umpire" or "The Lord of Umpire". His full name is Harold Dennis Bird, and is widely respected and recognized for his exceptional umpiring abilities, shrewd decision-making, and tenacity in the game.
Throughout his career, Dickie Bird has umpired in many international cricket matches, including Test matches and One Day Internationals. He is known for his trademark white cap and ability to maintain composure even in high-pressure situations. His significant contribution to cricket and his unwavering commitment to fair play cemented his legendary status in the cricketing community.
It is important to emphasize that the nickname "The God of Umpires" is a testament to the immense respect and admiration for his umpiring skills, emphasizing his umpiring status in the world of cricket.