Searching for the highest fan following ipl team? you're in the right place! in this article you will get the highest fan following ipl teams list
This article serves as your ultimate guide to understanding the social media impact of each IPL team in 2023 across platforms like YouTube, Instagram, and Twitter. The Indian Premier League (IPL) stands as a globally celebrated and thriving cricket league, renowned for its thrilling cricketing action and an impressive assembly of star players, collectively commanding a vast and diverse fan following.
Fan engagement and devotion toward an IPL team stem from various factors, such as their performance, player composition, and brand value. A team's consistent achievements can galvanize and maintain a strong fan base. Moreover, the presence of iconic players further amplifies a team's popularity among enthusiasts.
Read on to explore the most ardently followed IPL teams this year.
CHENNAI SUPER KINGS
MUMBAI INDIANS
ROYAL CHALLENGERS BANGALORE
KOLKATA KNIGHT RIDERS
RAJASTHAN ROYALS
SUNRISERS HYDERABAD
DELHI CAPITALS
PUNJAB KINGS
GUJARAT TITANS
LUCKNOW SUPER GIANTS
CHENNAI SUPER KINGS
CSK, an acronym for Chennai Super Kings, reigns supreme as the most adored IPL team in 2023. They've maintained a steadfast fan following since the league's inception. Boasting luminaries like MS Dhoni and Ravindra Jadeja, CSK's legacy is fortified by their four IPL championship titles (2010, 2011, 2018, and 2021). The charismatic leadership of MS Dhoni remains a cornerstone of CSK's fame. Their unwavering consistency and high brand value continue to captivate and retain fans.
CHENNAI SUPER KINGS Social Media Stats:
YouTube: 2.77 Million Subscribers
Instagram: 11.3 Million Followers
Twitter: 9.4 Million Followers
MUMBAI INDIANS
Mumbai Indians secure the second position in fan engagement in IPL 2023, a feat attributed to their unwavering performance. Their rich history boasts five IPL titles. The combined brilliance of players like Rohit Sharma, Jasprit Bumrah, Suryakumar Yadav, and Kieron Pollard contributes to their eminence. Rohit Sharma, a force to be reckoned with, led Mumbai Indians to victory in IPL 2013, 2015, 2017, 2019, and 2020.
MUMBAI INDIANS Social Media Stats:
YouTube: 2.84 Million Subscribers
Instagram: 11.5 Million Followers
Twitter: 8 Million Followers
ROYAL CHALLENGERS BANGALORE
The Royal Challengers Bangalore garners substantial support in IPL 2023, driven by their star-studded lineup, including captain Virat Kohli and AB de Villiers. Despite not clinching the championship, their captivating matches and influential players maintain an extensive fan base. Virat Kohli's presence has been a pivotal factor behind RCB's massive popularity.
Also Read: Virat Kohli Drinking Water Price & How Much Evian Water Cost?
ROYAL CHALLENGERS BANGALORE Social Media Stats:
YouTube: 3.52 Million Subscribers
Instagram: 10.3 Million Followers
Twitter: 6.5 Million Followers
KOLKATA KNIGHT RIDERS
Kolkata Knight Riders secure the fourth spot in fan fervor. Their robust support roots from their charismatic owners, Shahrukh Khan and Juhi Chawla. With two IPL titles (2012 and 2014), KKR's fan base swelled during the league's early years (2008-2009).
KOLKATA KNIGHT RIDERS Social Media Stats:
YouTube: 1.16 Million Subscribers
Instagram: 3.6 Million Followers
Twitter: 5.1 Million Followers
RAJASTHAN ROYALS
Rajasthan Royals, champions of the inaugural IPL edition in 2008, command a devoted fan base. Their 2022 IPL journey to the finals under Sanju Samson's captaincy further invigorated their supporters.
Also Read: Arun Jaitley Stadium IPL records [Updated 2023]
RAJASTHAN ROYALS Social Media Stats:
YouTube: 659K Subscribers
Instagram: 2.8 Million Followers
Twitter: 2.6 Million Followers
SUNRISERS HYDERABAD
Since its inception in 2012, Sunrisers Hyderabad has captivated fans, especially in the state of Hyderabad, securing its first IPL title in 2016. The team's enduring success in the league has fostered a strong and loyal fan base.
SUN RISERS HYDERABAD Social Media Stats:
YouTube: 771K Subscribers
Instagram: 3 Million Followers
Twitter: 3.1 Million Followers
DELHI CAPITALS
Delhi Capitals, a prominent IPL franchise, garners considerable support, particularly in northern India. The team's evolution from Delhi Daredevils to Delhi Capitals in 2018 rejuvenated its fan base, attracting both steadfast supporters and newcomers.
DELHI CAPITALS Social Media Stats:
YouTube: 772K Subscribers
Instagram: 3.5 Million Followers
Twitter: 2.5 Million Followers
PUNJAB KINGS
With a loyal fan base hailing from northern India, Punjab Kings represents the state of Punjab. The team's rebranding in 2021, including a name and logo change, resonated with fans, reflecting the region's culture and identity.
PUNJAB KINGS Social Media Stats:
YouTube: 467K Subscribers
Instagram: 2.8 Million Followers
Twitter: 2.9 Million Followers
GUJARAT TITANS
Gujarat Titans, a recent addition to the IPL, debuted in 2022 and promptly clinched their first IPL title. The team's rapid growth and representation of western India have contributed to a robust and enthusiastic fan base.
GUJARAT TITANS Social Media Stats:
YouTube: 291K Subscribers
Instagram: 2.1 Million Followers
Twitter: 435.9K Followers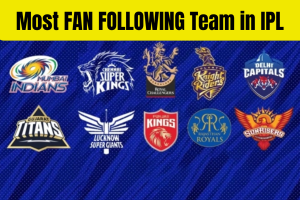 LUCKNOW SUPER GIANTS
Lucknow Super Giants, introduced to the IPL in 2022, showcases talents like KL Rahul, Quinton De Kock, and Krunal Pandya. Their commendable debut season secured them the third position on the points table.
LUCKNOW SUPER GIANTS Social Media Stats:
YouTube: 62.4K Subscribers
Instagram: 1.8 Million Followers
Twitter: 751.3K Followers
This comprehensive overview unveils the impressive fan bases of various IPL teams, each resonating with fans through their unique brand of cricket and captivating players. As you delve into this analysis, remember that IPL's allure transcends boundaries, uniting cricket enthusiasts worldwide.
Conclusion
Analyzing the supporters of all IPL franchises, it becomes apparent that in the IPL 2023 season, Mumbai Indians, Chennai Super Kings, and Royal Challengers Bangalore have amassed the highest fan following ipl team.
These three teams boast some of the most renowned global cricketing icons such as Virat Kohli, MS Dhoni, and Rohit Sharma, thereby forging a robust emotional connection with their fans.
The overall panorama of the IPL 2023 tournament showcases an exceptional level of competition and captivation, with numerous teams delivering extraordinary performances.
Frequently Asked Questions:
Which are the most followed teams in IPL 2023?
The premier three most followed IPL teams in the year 2023 encompass Mumbai Indians, Royal Challengers Bangalore, and Chennai Super Kings.
Which IPL team has the most followers on youtube?
Standing out with an active social media presence, Royal Challengers Bangalore boasts an excess of 4 million subscribers on their YouTube channel.
Which IPL team has Least Followers?
In the spectrum of IPL teams, Lucknow Super Giants emerges with the smallest fanbase, boasting a modest 64,000 subscribers on their YouTube channel.
Whose fan following is more MI or CSK?
Mumbai Indians have acquired a larger following when compared to Chennai Super Kings. The substantial triumphs of the Mumbai Indians in the IPL significantly contribute to their extensive fanbase.
Is RCB the most Popular Team?
Undoubtedly, RCB establishes itself as one of the most eminent teams in the IPL. The allegiance of the fanbase to RCB finds its roots in the prominence of their star player, Virat Kohli.